Lava Electronics Noida going to drive its campus recruitment in Gaya, Bihar for ITI Pass-out candidates as technicians, interested candidates who fulfill the eligibility and want to join this campus pool can check the eligibility and all other queries related to this vacancy like trade details, date, place, and salary details of Lava International Recruitment.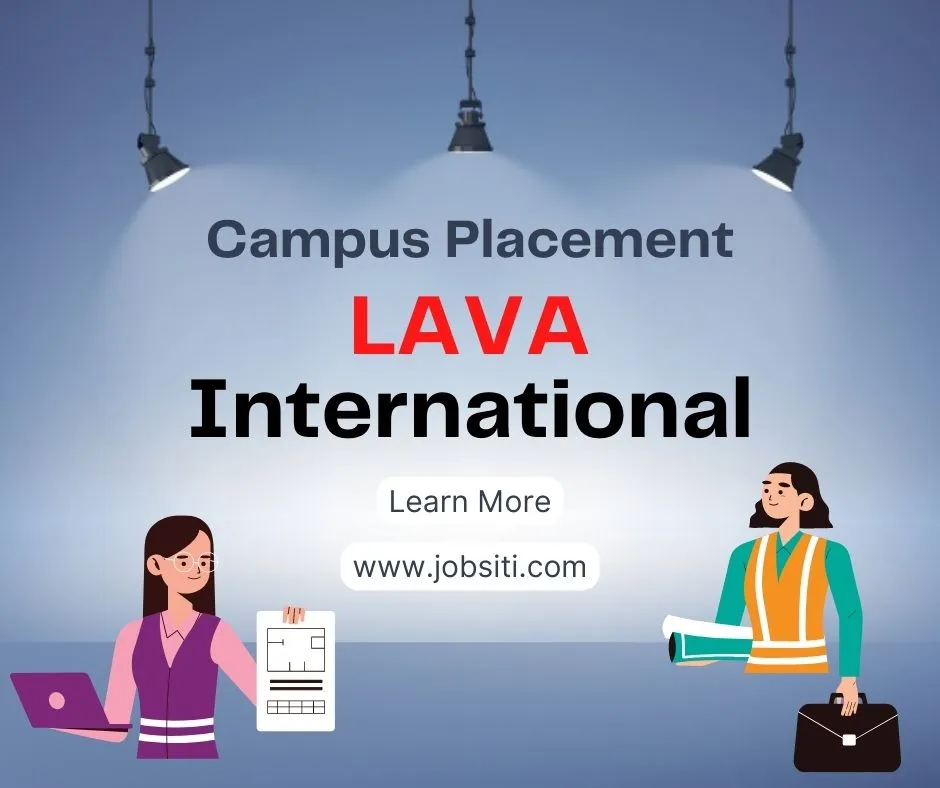 Lava International Noida Campus Recruitment 2023 ITI Freshers Permanent Job
Lava International is one of the leading feature phone, smartphone, and other electronic manufacturer companies in India. The company has its own brand and it also provides manufacturing services to other top popular companies like Samsung, Moto, Nokia, etc. Lava has a good consumer base in India as well as many other countries it's also popular for its budget segment phone and quality.
Educational Qualification:
10th (High School) pass from any recognized board in India.
ITI (NCVT/SCVT) Pass in Fitter and Electrician Trade.
Age Limit:
Minimum age 18 Years
Maximum age 26 Years
Selection Process: Common aptitude test, Trade test, Face to face technical round, and Personal HR Interview.
Required Documents:
10th pass mark sheet
ITI (NCVT/SCVT) mark sheet and certificate.
Aadhar Card
Passport-size photo.
Lava International Campus Placement Details:
| | | |
| --- | --- | --- |
| Campus Date & Time | Campus Venue | Notification |
| 06 June 2023 at 09:00 AM | KD Private ITI, Phulwaria, Siwan, Bihar | Download |
| 26 April 2023 at 10:00 AM | Deoria Private ITI, Krishna Nagar, Deoria, Uttar Pradesh | Download |
| 24 April 2023 at 09:00 AM | Govt ITI Sultanpur (Uttar Pradesh) | Download |
| 12 April 2023 at 09:00 AM | Shaheed Diwan Chand Katoch (Pvt.) ITI Baijnath, Kangra (H.P) | Download |
| 29 March 2023 at 09:00 AM | Sujan ITI Rasalpur, Gaya- Chakand Road, (Bihar) | Download |
| 25 March 2023 at 09:00 AM | Yogiraj Dhyanand ITI, Niyar Cholapur, Varanasi | Download |
| 25 February 2023 | Balaji Private ITI, Philibhit | Download |
| 23 January 2023 | Satpuda ITI Rewa Madhya Pradesh | Download |
| 28 January 2023 | Yogiraj Dhyanand ITI, Niyar Cholapur, Varanasi | Download |
| 19 November 2022 | Sujan Private ITI, Rasoolpur, Gaya, Bihar | Download |
Useful Link:
---
Older Recruitment
Lava International Limited Drive Its Campus Placement in Pryagraj (Allahabad) for 10th (High School) and ITI Passout Candidates for its Noida plant. Interested Candidates who want to join this Recruitment Vacancy they can check their eligibility below and participate in this campus placement on 10 October with the required documents.
Lava International Ltd Noida Campus Recruitment | ITI Apprenticeship Freshers 2023 |
About Company: Lava Mobile and Electronics is a multinational Indian company that manufactures consumer electronics goods like Feature phones, smartphones, laptops, etc for many other big companies. The company also have its business in several countries Shri Lanka, the Middle East, Bangladesh, Indonesia, and Thailand. Lava was also get awarded in 2016 by the UP government for providing the largest number of apprenticeship training to candidates.
Educational Qualification for Lava International Ltd Noida
Candidates Have a 10th (High School) Pass with a minimum of 40% marks.
ITI (NCVT/SCVT) Pass with minimum 50% marks (All ITI Trades are eligible).
Age Limit
Minimum Age 18 Years
Maximum Age 25 Years
Salary/Stipend: ₹10030/ Per Month + Canteen+Unifom and Other Benefits.
Required Documents for Lava International Campus Placement
Resume (Bio-data)
10th (High School) Marksheet
ITI (NCVT/SCVT) Marksheet and Certificate
Aadhar Card
Passport size Photo
Note: This Apprenticeship recruitment is only for Male Candidates.
Work Location: Noida
Date and Place
| | |
| --- | --- |
| Date and Time | 10 October 2022 At 10:00 AM |
| Place | Adarsh Private ITI Baidoo Karchana Prayag Raj (Uttar Pardesh) |
Important Link
FAQs
Can ITI-appearing candidates join this Lava Campus Placement?
Ans. Yes both ITI-appearing and pass-out candidates can participate in this campus recruitment.
What is the job location for Lava recruitment?
Ans. Job location of this recruitment is Noida.
What is the salary of an ITI Technician in Lava International?
Ans. ITI Technician will get ₹10000 to ₹11000/ Per month + Over time and other benefits.
What is the apprentice training period in Lava International Ltd Noida?
Ans. The apprenticeship training period will be for one year as per the government apprenticeship act.
Which ITI trade is eligible for this recruitment?
Ans. All ITI trades are invited to this Lava campus selection.
What is the selection process for this Job Vacancy?
Ans. Candidates will be selected on the basis of an Assignment test and personal interviews.